Projects
First Pipes are Installed
November 09, 2018
Some of the very first plumbing has been installed!


The pipe is encased in rebar and then concrete for stability.

---
Progress!
November 01, 2018
Things are progressing nicely with the Minnesota Reservoir rebuild project. The soil nail walls are now complete and some of the steep walls are covered in landscape rock. From the photos, you can see the pad for the new reservoir floor. Yesterday was spent testing this area to ensure that the base of the reservoir has the proper compaction. The crews will continue to build this base by adding gravel and testing for compaction until there is a solid base installed one foot thick.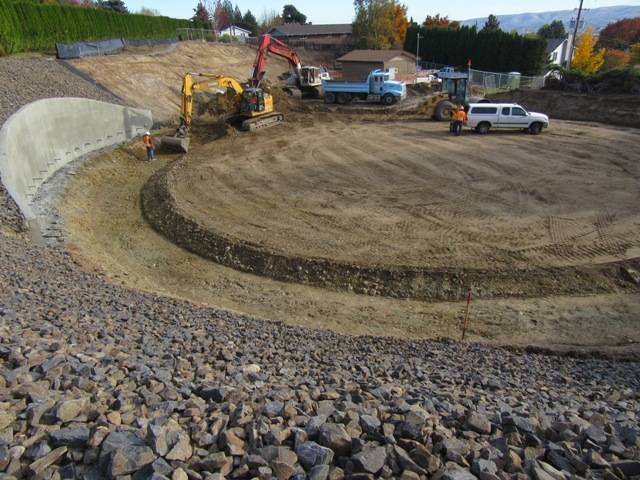 The floor of the reservoir will be poured in one monolithic pour. This means that the floor will be constructed with only one single pour. The good news is that this type of floor will shorten the length of construction time two to three weeks on this project. (Yay!) The trade off is that on floor pour day, it will be a VERY LONG day. It is anticipated that work will begin at 5 AM and complete around 11pm. (Yikes!!) Once the commitment is made to pour the floor, it is total commitment; no changes, no stops, no do-overs. This date has not yet been determined, but for now, it is anticipated that the floor will be poured during the month of November. We understand that this is an extremely long construction day, but we hope our neighbors understand the need to get the floor poured this fall and the fact that this will shorten the overall construction time. Once the date has been determined, it will be posted on the website and letters will be sent to all neighbors in the area.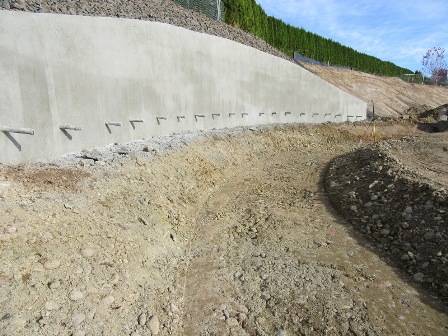 Watch the Soil Nail Wall being finished on the You Tube video below:
View Youtube Video Here
---
Soil Nail Wall
October 10, 2018
Here is an example of how a soil nail wall is built. Our finish will be the gray concrete only.
---
---